Repair Center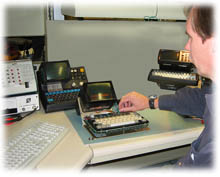 MDT Technical Services would like to discuss with you the advantages of contracting out your maintenance, service, and support work. As a third party service and support center, MDT Technical Services can offer the following benefits to your organization:
Lower cost for service and support
Decreased employment overhead
Quality oriented, Six Sigma service
Motorola factory trained technicians
Allow your company to concentrate on your core business
We sell and service a wide range of voice and data products. This includes maintenance, T&M, warranty, parts, complete units, refurbished and new equipment sales.
MDT Technical Services (formerly the Motorola Data/Voice Systems Support Center) has a long history going back over 15 years to the design, manufacture and repair of the original Motorola/MDI products. This successful relationship has continued to where today we service, repair and sell an extensive range of the latest Motorola data and voice equipment.
Our dedicated staff provides support across North America. Services include the following:
Service (maintenance, T&M, and warranty), support, and sales
24 hour pager access for system support
System support for modems, telco lines and base radios
On-site troubleshooting
Fixed and mobile equipment leasing
In-house component level repair and testing to manufacturers' specifications

System m

aintenance training courses

For further information, please contact MDT Technical Services.